Testimonials
Read testimonials from past guests to Nevaeh Cabin Rentals.
Nevaeh Cabin Rentals are by far the best deal and the most accommodating rentals in the Blue Ridge area.1-4-2018
I've never used any other cabin rental company. Nevaeh is the best. 1-4-2018
All the people i dealt with were excellent at what they do. I stayed in many cabins/houses over the years with my family and the family said this was the best.  1-4-2018
We have been renting yearly from Nevaeh Cabins probably for over 5 years. Always top notch from the staff to the cabins. 10-10-2017
Love our mountain trips to NW Georgia !
I really wouldn't change a thing. The cabin were designed really nice and I had everything I needed. My first experience were very nice and it won't be my last.
Love the sweet ladies at NEVAEH!!
Very friendly staff. The home was beautiful, clean and well stocked with pots and pans and things you would use at home to cook with. The view was georgous.
Lovely cabin in a beautiful area with awesome mountain views. The town of Blue Ridge is quaint and has a lot to offer.
The ladies in the rental office were wonderful. The whole experience was wonderful. Look forward to coming again. Thanks for everything!
      Bear Ridge 
A group of 6 adults enjoyed a long get-away weekend at this amazing cabin.  Beautiful views.  Plenty of room.  Nevaeh gets A+ for outstanding customer service!  We booked for a Fall weekend before we left!
Marie Adams 3-6-2018
       Blue Skies 
We thank each and everyone who made our stay a honeymoon.  It was awesome!
Maxine 5-6-2017
***********************************************************************************************
We stayed at Blue Skies, we really like this cabin and had a really restful time. We even stayed an extra night. We really appreciated the customer service from the Rental place, they were very friendly and helpful. We will be renting from them again later in the year.
Larry & Vicky Hood  4-4-17
***********************************************************************************************
Loved my stay and would return
Bennie Anderson 6-25-17
***********************************************************************************************
Our family evacuated Florida for hurricane Irma.
Boy are we glad we did! Precious family memories were made in Morganton & Blue Ridge. We loved our stay in this cabin! It was the perfect getaway and so cozy but at the same time had more room than the five of us needed. We enjoyed the beautiful view and the cool mountain air. We will definitely return to this cabin and rent again from Nevaeh Cabin Rentals. We highly recommend both the cabin & Nevaeh! I've already forwarded this cabin information to friends and family!
Thanks,
The Cassedy Family 9-12-17
   Camp Rising Fish     
Great location right on the Taccoa River. Cabin was nicely furnished,clean, modern appliances, and cozy. The staff was very quick and thorough in response to our questions. 
The Guest Information Binder provided a treasure trove of the area activities and attractions. 
We'll be back!    Dampier - November 2017 
   Cherokee Sunrise
Everyone go with this cabin rental service. I will never rent from aunt bugs again. they need to take lessons from the staff and everyone involved. thx ladies our trip was great. Gerald and Wendy Oct 20, 2017
-----------------------------------------------------------------------------------------------------------------------------
I have to start with the staff. They were always very friendly and were ready to answer any questions I had prior to arrival as well as during departure.
This was my second stay with Nevaeh Cabin Rentals. I chose the same cabin from my first visit. Cherokee Sunrise. It is such a beautiful cabin with and excellent view of the Blue Ridge Mountains.
I look forward to staying again!     Debra Risin 11-5-2017
     Cherry Beary Den
This cabin was exactly what we were looking for! Close enough to Blue Ridge to be convenient, but far enough away to be private. Loved it!!!!
Brondo – 10-23-2017
------------------------------------------------------------------------------------------------------------------------------
The Cabin was adorable and decorated beautifully!  It was everything you need for an enjoyable stay!  The location and view were perfect!  We will definitely be back and will recommend to our friends!
Senn 10-8-2017
 -----------------------------------------------------------------------------------------------------------------------------
We really enjoyed staying at this cabin it was cozy and we loved everything about it and was close to Blue Ridge and Ellijay.  The cabin had everything that you could need we just enjoyed the little vacation we had there at the cabin.  We will tell friends about this cabin.
McGee 9-21-2017
------------------------------------------------------------------------------------------------------------------------------
Beautiful setting and then you walk in to pure paradise.  We have a wonderful time in a peaceful location.  Couldn't have asked for a better get away. We will be back. 
Hall 4-26-17
----------------------------------------------------------------------------------------------------------------------------- 
Loved this cabin, cozy and private.  Had a very special time, just the two of us.  Bed was very comfortable, owner thought of everything.  Loved the way everything was labeled, made it super easy.  Great fireplace and hot tub, fast internet.  Kitchen was beautiful.  Loved the way everything was decorated.  Spent time exploring nearby Blue Ridge, GA  and just relaxing.  We plan to come back here in the future.
Cook 03-02-2017
----------------------------------------------------------------------------------------------------------------------------- 
My boyfriend and I rented this cabin for my birthday weekend and an early Valentines weekend.  The cabin had everything we wanted and needed.  We enjoyed the outside fire pit and hot tub during the evening, and the indoor gas fireplace was perfect for cuddling up.  The cab is conveniently located so we got everywhere, including the wineries, that we wanted to go. We hope to be back!
Brkich 02-13-2017
----------------------------------------------------------------------------------------------------------------------------- 
We had a very nice stay at this cabin.  It is well maintained, beautiful decorations Very clean and cozy Several things to do around We will come back.
Hidalgo 01-03-2017
----------------------------------------------------------------------------------------------------------------------------- 
The view was stunning. The cabin was cozy and warm. Just right for the two of us. The cabin had everything we needed. The surrounding area was speckled with similar cabins but we felt as if we were the only ones on Cherry Mountain. We definitely will be back and will recommend to our Florida friends.
Rushings 12-25-2017
Crockett Mountain Lodge
This is the third stay for my family at Crockett Mountain Lodge and once again we were totally thrilled with the accommodations. The view is beautiful, the cabin is very well-stocked, and the layout is exceptionally comfortable. Thank you so much to the ladies at Nevaeh Cabin Rentals for giving us another memorable vacation with our grandchildren.
Amy Sikes
Jacksonville, Florida
Stay: 12/26/17-1/1/18
******************************************************************************************
My family and I go to North Georgia every year in October and stay in a cabin. But this cabin was our absolute favorite! It's everything a cabin should feel and have – the Mountain View, easy gas fireplaces, Beautiful kitchen, games for the kids, and all-around cozy, quiet, secluded place to relax and come together as a family. And we found so many things to do that we'll have to come back.
Thank you for such a wonderful stay in the Crockett mountain cabin!
Rob D. 10-22-2017
***********************************************************************************************
Our stay at Crockett Mtn Lodge last weekend was great. 
McLarty 5/18/2017 
***********************************************************************************************
We really enjoyed the cabin stay and felt re-energized after the trip! We stayed in, cooked and enjoyed the scenery! I love the kitchen appliances and the convection oven was really nice. Having a waste disposal unit in the sink was a real plus. Diane loved the screened in porches and we spent a great deal of time there and on the porch gliders. We also enjoyed the modern TV's with HDMI connections as we brought our own PS4 so that we could watch NetFlix and our son could play games. The hot tub was great although it was only cold enough to use it one day but I did enjoy being in it while it rained outside (made for some awesome views of the mountain as the clouds rolled in).
John, Diane and Zachary 4-16-17
************************************************************************************************
Thank you so much for sharing your breathtaking cabin!  We are here this weekend from Southwest Florida evacuated for hurricane Irma.  On the way up, frantically trying to find somewhere to stay because everything was booked due to Irma, I came across your website and spoke with Mary Jo – could not be more thankful for her.  This was an incredibly stressful situation for our family, but we were able to unwind and relax a bit at your cabin.  We plan to come back when circumstances are better!
The Bowling Family - September 9-12, 2017
Crockett Trails
Our weekend getaway was awesome, we didn't want to leave.  The cabin was everything that we'd hoped for and more.  The mountain view was fabulous - serene.  
Thanks for providing such a wonderful experience. We will definitely be returning soon.  
Minor issues were black ants, no can opener or we overlooked it.  Also master bedroom bed was too soft.  These issues were not a big deal just information that may need attention. 
Keisha Stephens 4-18-17
 -----------------------------------------------------------------------------------------------------------------------------
We had a great time in a beautiful house.
We only regret that we didn't stay longer.
Anja 8-20-2017
------------------------------------------------------------------------------------------------------------------------------
Crockett Trails is a beautiful and comfortable cabin. We really enjoyed the outside fireplace and the office staff was very helpful in helping us obtain firewood delivered at a reasonable price.
Rosalyn Mayes 11-5-2017
------------------------------------------------------------------------------------------------------------------------------
Dogwood Retreat
8 of us used this cabin while we motorcycled the mountains. Everything we needed and more was in the cabin. Great location, plenty of bedrooms and baths. It even had a hot tub. We would definitely rent this cabin again.
Rich Ohlenroth 7-15-2017
     Eagles Breeze
EAGLES BREEZE We had such a great vacation and loved the cabin we stayed in for this vacation. There were games, tv's, outdoor entertainment, a little bit of everything for everyone. We will be back and will be staying here again.      Anonymous Oct 2017
   Falling Leaves
My wife and I had a very nice stay at "Falling Leaves" cabin. The cabin was neat, clean, and everything worked.
Your professionalism and warm hospitality are appreciated, and we would surely return again.
Thank you.
Thomas F. Renfrow, Jr.   8-24-17
------------------------------------------------------------------------------------------------------------------------------
We absolutely loved our 5 day stay there in mid-December. The office staff was prompt and courteous with all communications. Directions to the cabin were clear; and although only about 10-12 miles away from Blue Ridge, it felt like a hundred as we were in the middle of wilderness. Falling Leaves is beautiful and well kept. The hot tub was a nice feature and we loved the fireplace. It was the perfect getaway that we needed to experience nature and quiet. It is convenient to many tourist and hiking destinations. We were definitely impressed with Nevaeh and plan to rent from them again.
Kent and Charlene   12-26-17
   Great Escape Lodge
What an awesome Cabin!!! The view is Beautiful.  We enjoyed the deck as very much – watching the Sunrise every morning gave glory to God's creation.  Every evening was such a treat planning games or simply gathering in front of the fire – on the outside deck sunroom. Well …… Awesome Family Time!!! Game Room, TV's, Hot Tub, Beautifully decorated cabin. OH MY!!!! This is the Best "Ever" Cabin ……"The Prefect Blue Ridge Getaway"
Jesse & Sheila Webb 10-3-2017
This is our 3rd visit to Blue Ridge and our first to this beautiful cabin.  The view here is the most amazing we have ever had in all years of renting cabins!!! Thank you for allowing us such a wonderful stay and we will be back!! It is 34° this morning with a freeze warning.  Hope we can get down off the mountain ok!!  Other than this (lol) your place and our stay was perfect!!
Mary & Rick, Florida Oct 23-29, 2017
First, I'd like to thank you for our stay. The cabin was amazing - it had everything we needed and more. The view was absolutely breathtaking. We came at the perfect time with the leaves changing. The electric fireplace was very convenient (that way we didn't have to clean up). We will definitely be renting the same exact cabin again (I think it'll be a yearly ritual). Thank you again for having us. This trip was simply amazing!!
Tina Gilson 11-3-2017
This was our first stay in Blue Ridge, but our 10th year in the mountains.  This cabin topped them all.  Amazing views, clean and so well stocked.  We felt at home!  
The Grays, Chapmans & Christophers   1-15-2018
High Camp
We had a very nice time and the cabin was great.  We loved the weather and the views were spectacular from everywhere.  There were only two minor things - my niece found the directions to the cabin a little off, and the dvds were not right.  She had gotten several movies for the girls to watch.  Other than that, the bathrooms were great and the hot water was excellent.  We had a lovely time. Thank you, 
Regina Miller   3-26-17
Inspiration Ridge
Our week at "Inspiration Ridge" was wonderful. We enjoyed the mountain view and all the amenities the cabin offered.  Your quick response to the A/C problem was also appreciated. Being a vacation rental owner myself I appreciate staying at a good clean rental property and having a good property manager.  We had a great vacation, as always, in the Blue Ridge area. We visit the area at least one a year and this is our first rental with you. I will certainly contact you for our next rental. Thanks for providing us another terrific memory of the Blue Ridge area.
 Thank you again,
 Elmer D. Korbus 7-22-2017
***********************************************************************************************
I had signed the guest book, but I just wanted to extend my thanks again. The cabin was beautiful we enjoyed all of it.  I had a personal experience because I got engaged there. 
On behalf of me and my friends thank you again, we did our best to leave the place in good shape.
 Regards, 
 Calvin 4-21-17
***********************************************************************************************
I am just writing to say a huge Thank you to the Nevaeh Cabin rentals team!
We stayed in Inspiration ridge during Thanksgiving week.
The cabin was so beautiful and the views were breathtaking.
I have a habit of taking everything with me when we go on vacation as there is usually something I need, however I need not have bothered … Inspiration ridge was kitted out to perfection!
We had everything we needed, especially in the kitchen which was so helpful for cooking Thanksgiving dinner!
The owners have paid great attention to every last detail.
We are so happy that they chose to share this beautiful property and we will definitely be back.
The Nevaeh team at the office were wonderful help also and directions to the cabin and instructions were easy to follow.
All the best
Kindest regards and greatest Thanks
Becker Family
     Lookout Lodge
Man! How can I start such a great review? I recently booked Nevaeh Cabins for a  Mother/Daughter trip this past weekend. We booked the Lookout Lodge Cabin and boy were we looking out! LOL The cabin had a WONDERFUL view of the mountains.
The decor of the cabin was gorgeous. The beds slept comfortably. All utensils and households supplies one could need was there! The Hot Tub was just right for a late night chat under the stars to have girl talk! Now, I know you may say. I'm sure there was something wrong with the cabin. The only thing that I could think to suggest would be the Sleeper Sofas. The one on the 3rd level is worn and should def be replaced.
Also, due to us arriving late we got lost! Although, Mary Jo and Linda (who are AMAZING) gave us paper directions, our directions from Walmart to the cabins were just a little off. (We used our GPS, this is  a NO, NO) After 3 failed attempts to find the cabin and ending in dark dirt roads. We decided to call 911, who graciously guided us to our cabin via phone directions. (Crazy night, I know).
Other than those two things our trip was perfect! The next day we enjoyed a relaxing Spa day at TeaTree's Massage and lunch at Serenity Cafe. I highly recommend booking Nevaeh Cabin Rentals 1. The staff is so helpful and truly amazing! Thanks Mary Jo and Linda! 2. Pricing is very reasonable for such amazing cabins! Lastly, memories will surely be made in Blue Ridge, GA!  This was our first annual Mother/Daughter trip and booking with Nevaeh Cabin Rentals has been a perfect start to  something great! 
Shanekia B. - 3-3-17 
Pick's Riverside Retreat
Our stay was amazing. We really enjoyed everything and look soon to returning in the near future.
Reggie Pero 4-4-2017
   Peace of Paradise
The cabin was FANTASTIC. It was wonderfully impressive from the minute we found it. Spotlessly clean, well laid out, loads of room, wonderfully decorated, beds super-comfortable, loads of books, games and a pool table, great hot tub, wonderful family room. Couldn't recommend it more.
Oh and thanks for arranging the perfect sunny weather for the solar eclipse. We watched it from Hiawasee GA. Fantastic few days. 
Thanks again 
Fiona and David Tyndall and family 8-24-2017
*****************************************************************************************
Peace of Paradise was a great cabin for a weekend getaway. It was very clean and the beds were very comfortable. The kitchen was stocked well with different utensils you might need for your stay. The hot tub was wonderful and there was plenty of room for us to enjoy ourselves. It was also close to Blue Ridge and we visited Mercier Orchard. A great Mountain Mama weekend was had by all.
From ease of booking to ease of check-out, our stay was wonderful. 
Quiet Thunder is a beautiful, well equipped cabin and perfect for 2 couples. We love to cook during our stay and the kitchen offered everything we needed. 
The location and views were lovely and a great starting point for all of the hiking we did in the area. 
We will be back!
 Parker 11-21-2017
We really enjoyed our stay at Sejahtera!  It is a beautiful cabin in a gorgeous setting.  Hope we can return and stay with you again -
Gay Aycock 7-19-2017
Serenity Woods
Stayed at Serenity Woods this past weekend, cabin was great. We had a lot of room to spread out over the cabin, lots of things for the teenagers to do including the game room and the hot tub. The master bathroom was heaven for me with a huge sit down shower and massive jetted tub for 2. Price was price for all the amenities, second visit to this cabin and probably not the last!
Delaina Morris 5-16-2017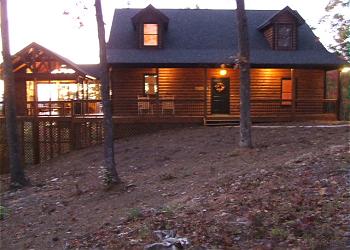 Whispering Mountain Lodge
The directions provided were very accurate and helped when the phone was unable to lock onto GPS.The weather was much better than forecast!The house was great with the larger bedrooms. House was very clean and everything functioned fine.
Bruce Grantham 6-25-2017
Beautiful Cabin really nice office staff.
The Cowen Family - Sept 7 2017